3rd Advent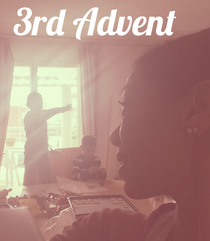 Despite feeling so tired and everyone getting down with winter season bugs 🤧 we did something. Yea....
Today is the 3rd Advent
We got out our cookie cutters and baked ornaments. Salt Dough Ornaments. It's the 2nd time we've done this - this time there was no eating of the dough, and 1st Born stuck through with our project till the end.
2nd Born counted how many he had, to compare with his brother - and I reminded him that it's the awesomeness that we're doing this Together.
My two peas-in-a-pod. 
Later, we tried to get 1st Born to understand how old he will be at his next birthday....9. I spoke to him about bringing his energy INTO his body - motioning with his hands that he brings it in and taps it in - then clap his hands in front - that this might help him focus in the present.
1st Born is labeled as having Attention Deficit Hyperactivity Disorder (#ADHD). Projects like these don't happen often, though 2nd Born and I love them.
Through the combination of his new School, being older, homeopathy, and Energetic Work, he's made incredible progress. And I'm so proud of him, his developing sense of humor, and openness to new situations. And I'm proud of his younger brother for also trying to bring him to understand things that come so easy to him.
#5daychallenge#complimentchallenge
I'm proud of myself for developing my Voice. Having a child who is labeled has brought me into situations where I've had to speak to various school officials, directors, dr.'s and psychologist - learning to stand strong to my opinions and feelings. I know my Voice is still developing....and I'm totally fine with that. 
P.s. 
if you feel 'helpless' when talking to a doctor, or anyone else who has a title to their name - remember they are human too. They are also making their own life experiences. You know you're children Better than someone who sees them every few months. Listen to their knowledge and know how, from the experiences they've made by seeing many patients - and then:
Listen to Your Inner Voice
****What are You Proud of Yourself for?
Let us know in our private Facebook space