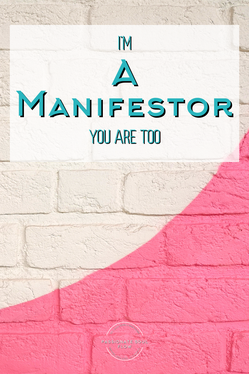 A few years ago, I won a chance to get my first Akashic record reading. 
It blew me away....
Amongst hitting on topics of soul origin, talents, and what topics I wanted to learn about, she told me that I have a talent for manifesting.
I thought about it.
How many times had something that I deeply wanted happen or come into my life? As I thought about it, I realized it was quite a few times. 
Though it didn't work out for me every time! Why?
Throughout the years I started learning more and more about manifesting consciously. I also let go of a whole bunch of cr@p, did a whole mess of healing, worked on my ancestral line, cleared my relationships, and ....jeez.... I became a new person. Well, not really. I just stepped more into my true self.
After cleaning my internal house, I started a journey of becoming more conscious of what I manifested and brought into my experience.
You see, I began to realise that in order to continue manifesting (bringing in what I really wanted - on purpose) I needed to first work on my mindset. And in order to clear up and make space for the 'goods' in my mindset, I needed to clean house!
That meant yes, looking at the cr@p, letting it go, and filling the space with lots of positivity, love, and joy....just how I like it!
What did this all bring me?
Partnership
Home
Fulfillment
Dang it feels good to step into realising that I can bring in what I want, on purpose!
I did my work and now actively integrate everything that I've learned to guide others on their own Manifestation Journeys:
Love? 
Business? 
Finances? 
Healing? 
Passionate Soul, what are you Manifesting?
CLICK HERE get your own Akashic Record reading with me.